Tutorial

Once started the track, we have 3 navigation screens, which you can access simply by sliding sideways.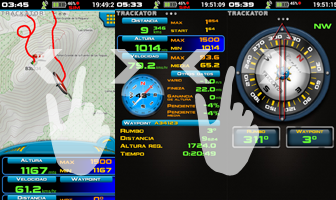 The first navigation screen presents the most important information we need, and the route map. Fields in screen1:
- Height, maximum height and minimum height.
- Speed.
- Destination waypoint name.
- Linear distance.
- Distance to waypoint (wpt), distance from startpoint (start).
There is only one menu button: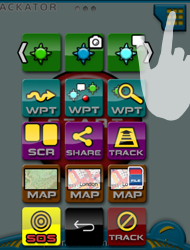 This menu has the following options:
- Add waypoints: moving horizontally the type of waypoint to the current position.
- Go to waypoint: a waypointturnpoint to show us the direction, distance, height required, ...
- Showhide waypoints.
- Zoom to waypoint: To center the map on the ed waypoint.
- Full screen: allows you to leverage the entire screen, and further summarizes information.
- Share: share current position by email, sms, whatsapp, ...
- Track: to a track and follow its route. In case of separation of the route, Trackator inform us the distance, and the way forward.
- Maps: allows you to various types of maps, including one that we have on the memory card.
- SOS: to send an emergency SMS with your current position to a predefined contact Setup.
- End Track: to finish the track. At this point, you can send the track to Trackalia, if you are connected to the internetdo it later.
The second screen informs us of other useful information for navigation, with maximum, minimum and average parameters. Furthermore we detailed information about our target waypoint.
Screen 2 information:
- Linear distance.
- Maximum distance away from startpoint.
- Height, maximum height, minimum height ..
- Speed, maximum speed, average speed of the whole track.
- Vario: vertical speed.
- Finenessglide (advanced meters for every meter of descentthe equivalent in feet).
- Gain height: height obtained from startpoint.
- Slope: meters updown every 100 meters and average gradient.
- Destination Waypoint with distance information to arrive, time, direction and height required under current fineness.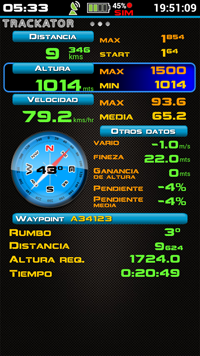 The third screen is a compass that indicates the direction according to the orientation of the smartphonetablet. Also indicates the direction necessary to get the ed waypoint.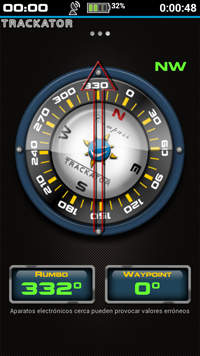 The fourth screen will help you to control the direction of your track to the waypoint visually. If your direction is separated certain degrees (from setup), you will see the circle point in red color. You can put on the alert sound.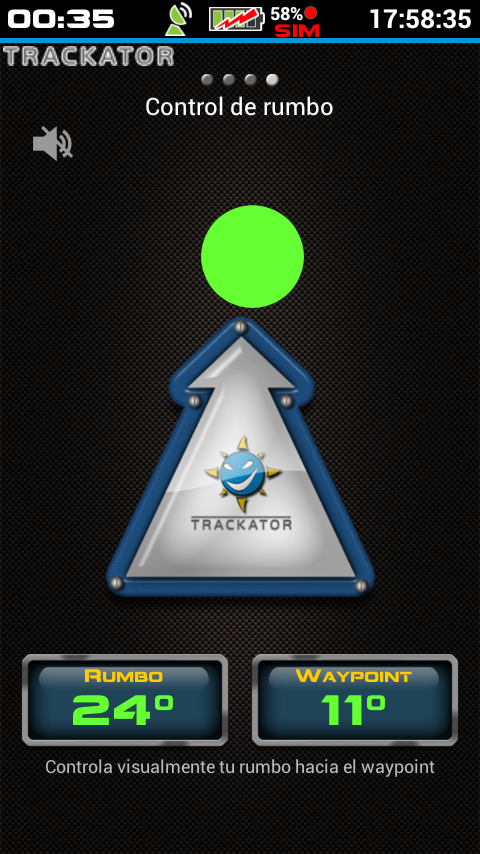 SIMULATOR
We can test the application without having to perform an real path. In simulation mode, Trackator will perform the same functions through the route, by rotating the smarthphonetablet, on the lefton the right and vertical and horizontally to indicate speed.