Tutorial

- Recording the route with no time limit.
- Viewing Open Street Map maps in online and offline mode.
- Record a lot of independent activities.
- Information equipments used.
- You can turn off the screen, and Trackator continue recording the track, with minimal power consumption.
- Waypoints of various types, with the ability to add images from the cameramemory card.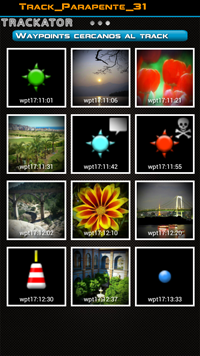 - Import and export tracks in various formats.
- Import and export waypoints in gpx format.
- Create competitions and shared to facilitate the work of all participants.
- Share tracks social media.
- Send the track to Trackalia, to keep register of each activity.
- Edit the tracks, to modify the activity, equipment, area, etc..
- Colour Settings of track line and goto line.
- Customizing icon position by activity.
- Settings home button for personal shortcut.
- Navigation simulation mode to test all the features of Trackator,to create paths to follow.
- Show tracks represented on the map, charts height, speed, distance, data statistics, waypoints along the way. Also moving the graphic cursor point, Trackator guide us through the route.